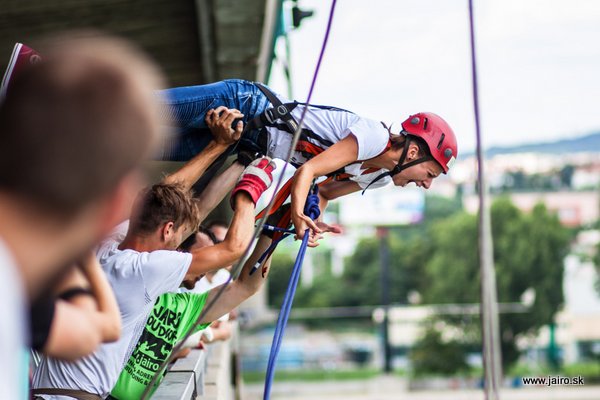 Najväčší adrenalín v Bratislave! Vyskúšajte si kyvadlový zoskok z mosta Lafranconi. Kliknite si na prihlášku a pozrite si ďalšie termíny.
To sa nedá opísať. Jednoducho to musíte zažiť!
Prekonajte samých seba a doprajte si poriadnu dávku adrenalínu. Zoskok z mosta Lafranconi Vám rozprúdi krv v žilách a pomôže odbúrať pracovný stres.
20 metrov vysoká hojdačka nad Dunajom a nával endorfínov po návrate späť.
Skáčeme bezpečne a mimo plavebnej dráhy lodí. Používame kvalitný horolezecký materiál, ktorý udrží osobné auto, čiže pravdepodobne udrží aj vaše ctené osobnosti 🙂 V tíme máme skúsených inštruktorov, ktorí Vás podržia, prípadne posotia, výber je na vás 🙂
Bežná cena: 28 €
Cena s vernostnou kartou Jairo Outdoor: 11 €